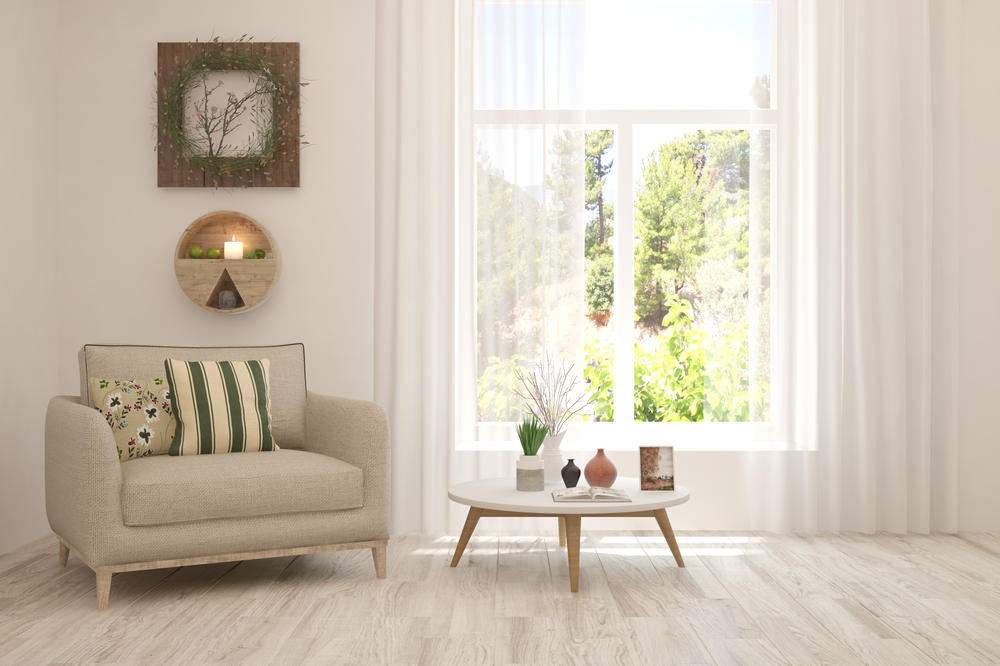 Professionals and homeowners don't always agree on what makes home design modern because it constantly evolves to reflect new ideas and trends. Contemporary style has revolved around simplicity, functionality, and bold looks in recent years.
Since windows play an important role in the home's appearance, home designers have been experimenting with the shape and positioning of the windows. It is now common to see multiple window units featured prominently and arranged in rectangular, square, or irregular groupings. Narrow window frame styles help make the window frames disappear as much as possible to focus on large perceived spaces. Modern designers prefer to keep window ornamentation at a minimum to welcome indoor-outdoor living. Using oversized windows and large glass panels, home designers blur the lines between indoors and outdoors. The most dramatic effect can be seen when the windows extend from floor to ceiling, stretch through the entire height or width of a wall or even wrap corners.
Below are six window styles that work well in modern and contemporary homes:
Double-Hung Windows
It fits nearly every architectural style, including modern contemporary design. The double-hung window is incredibly versatile. It provides extra ventilation and operability because you can open either one or both sashes, and it moves vertically up and down.
Casement Windows
Casement windows blend with the rest of the modern home's architecture because they feature clean lines and minimalist looks. Casement windows swing open, allowing plenty of ventilation and uninterrupted vertical views.
Casement windows are often combined with picture windows to showcase even broader outside views. They work well for busy areas of the home, particularly in moisture-prone areas, including the kitchen and bathroom.
Awning Windows
An awning window is hung on the top frame to give the room an expansive and modern appearance. Modern awning windows are built to open in an outward direction. They open from the bottom to let refreshing air into your home. Similar to the casement windows, they provide uninterrupted views of the exterior of your home.
Picture Windows
Picture windows cannot be opened, so their primary function is their modern look. They are used in many contemporary homes since they become a focal point for living rooms and dining areas. While picture windows can be installed anywhere in your home, you can usually see them where there is a great view or where you don't have to worry about ventilation. For example: by the staircases or in living rooms with high ceilings. Picture windows are a great source of natural light and serve as stylish frames for beautiful outdoor and landscape views. They work well when combined with other window styles, like casement windows.
Sliding Windows and Patio Door Systems
If your main goal is achieving seamless indoor-outdoor living, sliding windows and patio door systems are a perfect choice. Modern home's minimalist architecture pairs well with the large glass panels. They don't swing open like a casement window. Instead, sliding windows and sliding patio door systems consist of side-by-side panels that slide open. They are an excellent choice for homeowners looking for an efficient, low-maintenance window because they are easy to operate and clean. Sliding windows and patio door systems with sleek and narrow frame lines are universal because they easily match any home aesthetic while maximizing views.
Just like double-hung and casement windows, if your goal is getting more ventilation in your home, this window style is an excellent choice.
Specialty Shape Windows
Conventional window shapes may not always work with modern and contemporary architectural design. Consider specialty shape windows to accentuate your home's design if this is the case. For example, triangles, trapezoids, squares, half-circles, and more. There is no end to options, and you are sure to find the ones that fit your project.
Remember that windows can be custom designed to meet your precise specifications. Still, whether you are looking for a standard window, an oddly shaped one, or an unusually large one, make sure you contact a reputable window and door company that can help you simplify the process.
Modern windows styles can help you showcase impressive views and let in plenty of natural light. Large and unique window designs and contemporary window styles can give your home a desirable curb appeal. Truly exceptional modern homes take advantage of to let in plenty of natural light and take in impressive views. Suppose you have a modern home in the Palm Springs area and are looking to replace or upgrade your windows and patio doors. In that case, All American Window and Door can help you pick the right window style that highlights and complements your home's aesthetic and architecture. Please call us at 760-360-2631 for a free in-home consultation or fill out our online form and contact All American Window & Door.
Let's Work Together
Contact us today for a free quote.