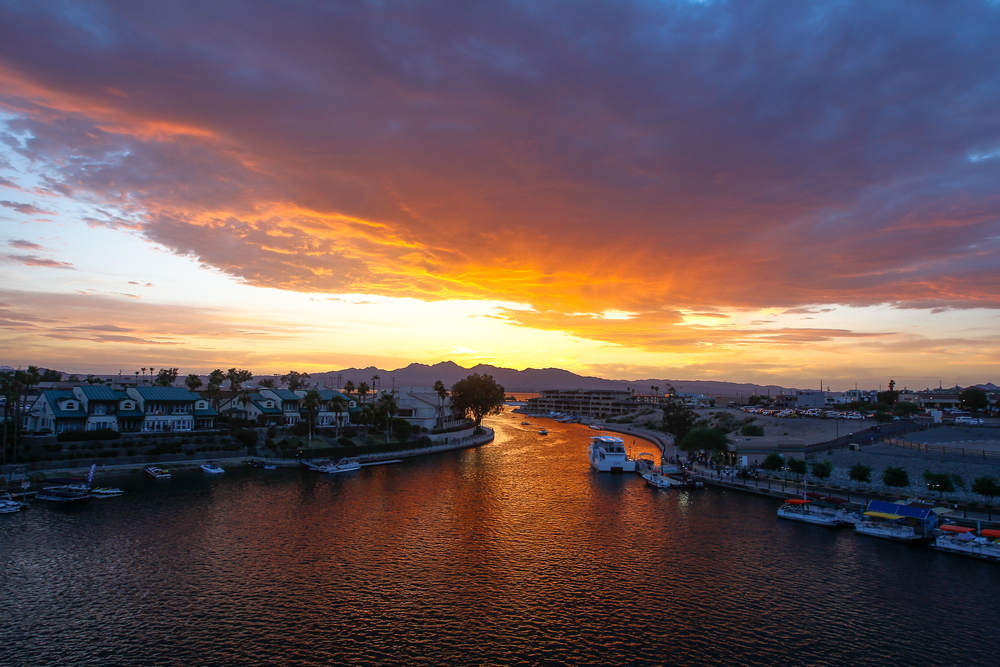 Lake Havasu
Lake Havasu City is in western Arizona that is known as a base for trails in the nearby desert and water sports. Lake Havasu City sits on the eastern side of Arizona, with its Californian counterpart of Havasu Lake directly across the lake. The reservoir has a capacity of 619,400 acre-feet! The city was established by Robert P. McCulloch, Sr. in 1963 as a self-sufficient, planned community. The area attracts 83,000 visitors annually with its historic London Bridge, friendly community, pristine lakes, annual events, abundant sunshine, and wide range of delicious restaurants and relaxing lodgings.
Climate
The summers in lake Havasu can be sweltering hot while the winters dry and cold. Over the course of the year, the temperature usually varies from 45°F to 110°F. The temperature rarely goes below 37°F or above 116°F. The hot season lasts for about 3.5 months, from June 1st – September 18, with an average temperature of 101°F. The hottest month of the year in Lake Havasu is July, with an average temperature high of 109°F and low of 85°F. The cold season lasts for about three months, from November 19 – February 23. The average temperature is 74°F. The coldest month for the city is December, with an average high 66°F and low of 46°F.
Window & Door Replacement
When it comes to window and door replacement, the residents of Lake Havasu choose All American Windows & Doors as their preferred contractor! As we all know, Lake Havasu experiences drastic temperature changes, and without quality energy-efficient windows and doors, the temperatures inside the home can become unbearable. When you choose All American Window & Door for your windows and patio door replacement needs, you can rest assured that your home will enjoy only the best benefits, including:
Energy savings
Comfortable indoor temperatures
Improved home value
Enhanced curb appeal
Reduced noise
& more!
For the best window and door replacement in Lake Havasu, Arizona, contact All American Window and Door at (760) 214-9851 or click here to get in contact today!
Let's Work Together
Contact us today for a free quote.